Happy Holi…!!!
Holi is one of the biggest festivals in India.
Only hearing "Holi" makes Indians smile.
All the Indians are waiting the day to come!
For me,  it's the first experience.
"It's very dangerous, so don't go outside of Sachi Home."
Siddhartha, the owner of Sachi Home told us…
But we were curious what was going on outside.
We couldn't stop walking around near by…
Because Indian staffs comes back with such a face!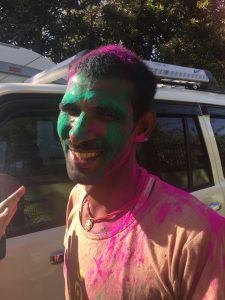 We thought it was OK near to the guest house.
Yes, it was all right at first.
Maybe we are foreigners and people hesitated at first.
But, gradually, people came to put color powder to our face.
And children started to shoot colored water by water gun!!!
We are totally wet and colored!!!
OMG….!!!!!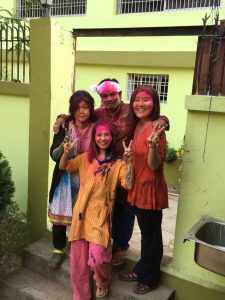 It's hard to notice by a picture,
but I'm wet as I took a shower with my cloth on.
This is Holi!
Today, everything is possible.
Pour tomato ketchup or sprite to others…
Anything is accepted.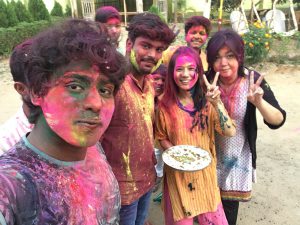 Forget everything and Live the moment.
Holi is the day you can be a child, go back to childhood.
Everything is possible in India.
Holi is the day you can understand this sentence.
Please come to enjoy next Holi in Sachi Home in Sujata Village!